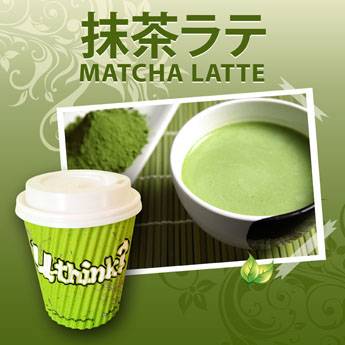 U-think? Matcha Latte is an urban zen drinks blended with matcha green tea powder, creamer and sugar. Matcha Latte is an alternative healthy drink, with a distinctive smell and taste.
Matcha is one of the best quality green tea in Japan, whereas couple of weeks before harvest, they were shaded from the sunlight. In the process, the leaves were evaporated first before being ground into a fine powder. All the processes are done to preserve their tenderness, flavor, beautiful color and its contents.
Matcha is commonly known for its high antioxidant, also some vitamins, minerals, protein and fiber (you drink the whole leaves). Besides that, Matcha believes to be able to extend the energy for hours and also maintains a conscious relax-state-of-mind; and of course all the benefit from green tea including keeping the ideal weight and glowing your skin.
MATCHA LATTE